When envisioning the perfect home, many individuals find themselves captivated by the concept of an open floor plan. This modern architectural design gained immense popularity over the years and for good reason! In this blog, our team explores the various benefits of a flexible floor plan and how it can elevate your overall living experience.
Enhanced Social Interaction
The most significant advantage of an open floor plan is its ability to enhance social interaction within a home. By removing walls and barriers that traditionally divide living spaces, family members and guests can seamlessly engage in conversations, regardless of their location within the shared area. Imagine hosting a dinner party where you can prepare meals in the kitchen while chatting with friends and family in the adjacent living room! This fluidity encourages meaningful interactions and fosters a sense of togetherness among occupants.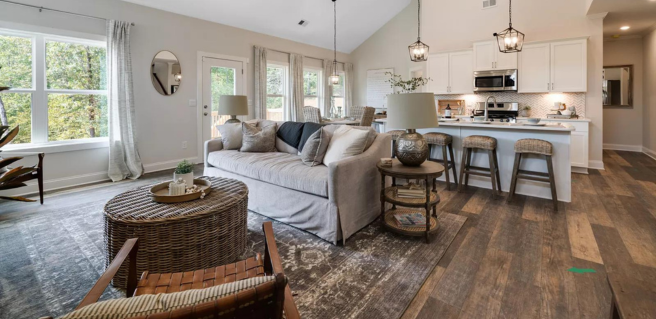 Increased Natural Light & Airiness
Homes with open plans enjoy abundant natural light and an airy atmosphere within a home. By removing walls, sunlight freely permeates the entire space, creating a brighter and more inviting environment. The unobstructed flow of light enhances the room's aesthetics and positively impacts the occupants' mood and well-being. Additionally, the absence of barriers allows for better air circulation, improving indoor air quality and maintaining a refreshing ambiance throughout the home.
Flexible Design Opportunities
Embracing a flexible home design provides homeowners with endless possibilities for creative and personalized designs. Without walls dictating room divisions, occupants have the freedom to configure the living spaces according to their lifestyles and preferences. Whether opting for a contemporary, minimalist approach or a traditional, cozy ambiance, an open floor plan serves as a blank canvas for homeowners to decorate a tailored living space. This flexibility ensures that the home is aesthetically pleasing and functional, catering to the unique needs of its residents.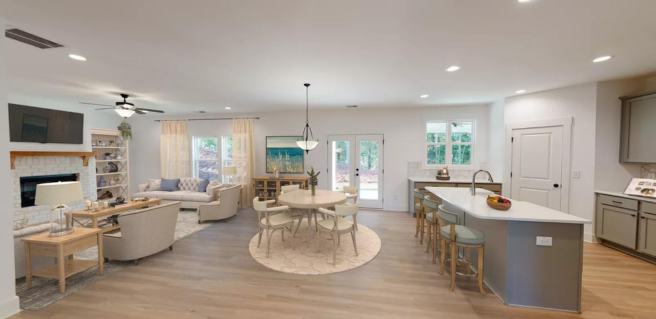 Maximizing Space Utilization
Unlike traditional floor plans that often result in underutilized areas and wasted space, an open floor plan maximizes the use of square footage. The seamless flow between living spaces eliminates cramped hallways and awkward corners, creating a more spacious and efficient layout. Homeowners can make the most of their available space and enjoy a home that feels much larger and more comfortable than its actual dimensions suggest.
Easy Supervision
Families with young children or pets find great value in open floor plans as they provide better supervision and monitoring opportunities. Parents can cook in the kitchen while watching their children play in the adjacent living area and pet owners can maintain a watchful eye on their furry companions, promoting a safer and more secure living environment for all. The flowing layout ensures that occupants remain connected and aware of one another, enhancing familial bonds and peace of mind.
Seamless Entertaining
Flexible floor plans are an entertainer's dream! Whether hosting gatherings or parties, the absence of walls allows hosts to participate actively in the festivities while tending to their hosting duties. Guests can move freely between the kitchen, dining area and living room, creating a seamless and enjoyable experience for everyone involved. The fluidity of movement fosters a sense of inclusion, breaking down barriers between hosts and guests.
Visit our Floor Plans page to explore our award-winning lineup of home designs. To discover new construction opportunities in Dallas, Villa Rica and Hapeville, visit our community pages! Follow along on our blog and social media for regular community updates, design tips, news and more.