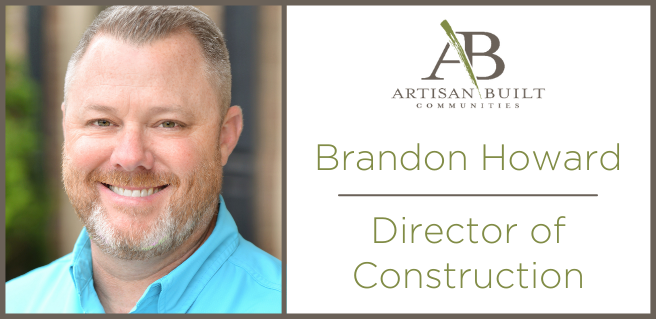 We are thrilled to introduce Brandon Howard, Director of Construction. With over 25 years of experience in residential construction, Brandon is a trusted member of the Artisan Built team who strives to further our overall building plans for continued growth!

Within his role, Brandon helps us deliver homes affordably by managing various parts of the construction process. He plays a role in planning, directing and coordinating the activities of the construction workers and chooses the best contractors and monitors their performance. In addition, Brandon is responsible for coordinating new and current projects and ensuring that everything goes according to plan from start to finish in an efficient and cost-effective manner.

Brandon is dedicated to his love for building and is motivated by seeing results. When given a project to complete, Brandon always takes the time upfront to determine a strong strategy to complete it. Deadlines are an important goal for Brandon to meet for his clients. Even when issues arise, like material shortages and weather-related conditions, Brandon is ready to work around these problems and find an alternative way to finish the task.

Brandon has made a commitment to the residential building business and loves it when projects are successful and when clients are happy with the results. In this business, it is important to interact with the clients and see their vision through to the final project. Brandon ensures that is always the case with the Artisan Built team!

When not at work, Brandon enjoys spending his time partaking in outdoor recreational activities like hunting and fishing. He is a dedicated father to two sons & uses his spare time coaching his eldest son's travel baseball team.

We are delighted to have Brandon on our team at Artisan Built. We always strive to have skilled tradesmen who take pride in their work on our team, and Brandon is a great example of that. We are excited to see Brandon continue to excel in the future.

Our current Paulding County communities include the award-winning NatureWalk at Seven Hills community and The Georgian. For more information on our available homes, contact us today.