At Artisan Built Communities, we take pride in offering personalized options for our buyers! This is especially true when it comes to the many flooring possibilities for our homes. Different flooring options have a big influence on design and purpose in a home, and our homebuyers at The Georgian and NatureWalk at Seven Hills have access to many different styles of flooring that's as unique as their style.
All homes at The Georgian and NatureWalk at Seven Hills come standard with Level 1 Shaw Floors carpet and luxury vinyl plank (LVP). LVP flooring is found in the kitchen, breakfast area, pantry, all bathrooms, foyer and laundry room, while all other rooms feature carpet as the standard flooring option. In addition, all homebuyers can elect to upgrade their Level 1 flooring to higher levels if desired. And, tile and hardwood floors are available as upgrades for these areas in your home.
Let's break down the various materials and benefits, how to care for these floors and the colors available for you to select at the Artisan Built Communities design center.
Carpet
Here at Artisan Built Communities, we offer two levels of carpet. Level 1 carpet is available in six different colors. Level 2 carpet offers three different textured styles - Graceful Finesse, Highland Charm and Vintage Style - each offering twelve color options.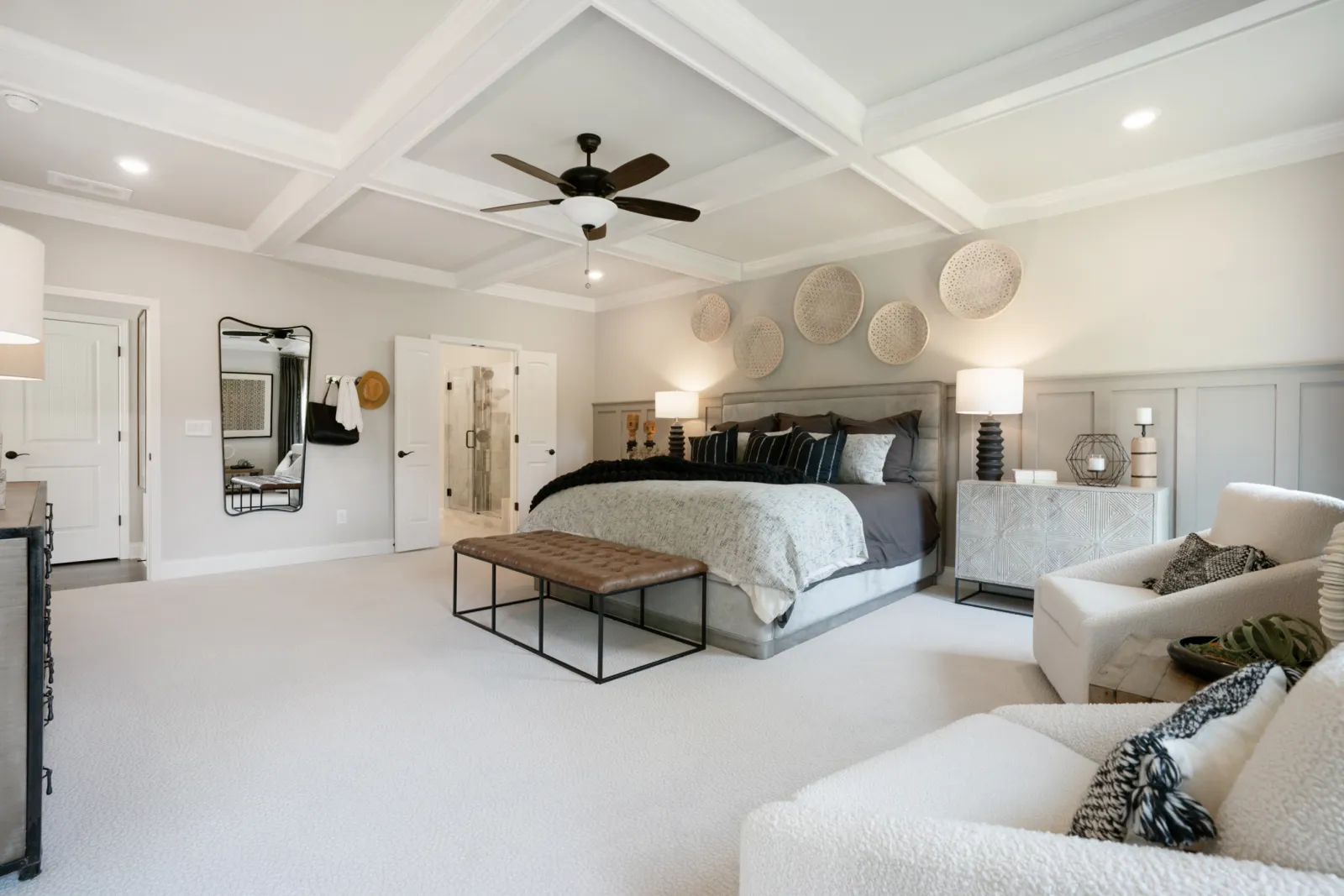 Benefits and Care of Carpet
Carpet is still the most popular, affordable flooring choice. Today's carpet is environmentally friendly - in fact, it's the lowest VOC-emitting flooring choice available. And, it's engineered to resist staining and withstand heavy foot traffic.
Carpet acts as a natural insulator, providing additional warmth in colder seasons, making it a great way to save money on utility costs while reducing energy usage. A wall-to-wall carpeted room resists the movement of heat through the floor of the home.
Carpet is easy to care for with regular vacuuming extending its life. Plus, all Shaw carpet comes with R2X stain and soil technology that protects your carpet.
Luxury Vinyl Plank Flooring
Luxury Vinyl Plank (LVP) flooring has become increasingly popular due to it durability and cleaning ease. LVP is the best choice for high-traffic areas, and families with kids or pets. Plus, current technology allows LVP to look nearly identical to wood, tile or stone flooring options.
At Artisan Built, we offer three levels of LVP, and each has unique characteristics. Level 1, also know as Impact, offers seven colors and comes equipped with Armourbead™, a wear layer that offers astounding performance.
Level 2 is the Anvil Plus vinyl floors and is available in 10 colorways. Anvil Plus is a waterproof option ideal for areas prone to splashes and spills, such as kitchens and bathrooms. Plus, it comes standard with Soft Silence®, an acoustical pad for noise reduction and added comfort.
Level 3 is Shaw Floors' Lazio Plus line. This vinyl comes in eight wood-style options and is 100% waterproof, durable and easy to clean. Like our Level 2 LVP, this line includes Soft Silence®.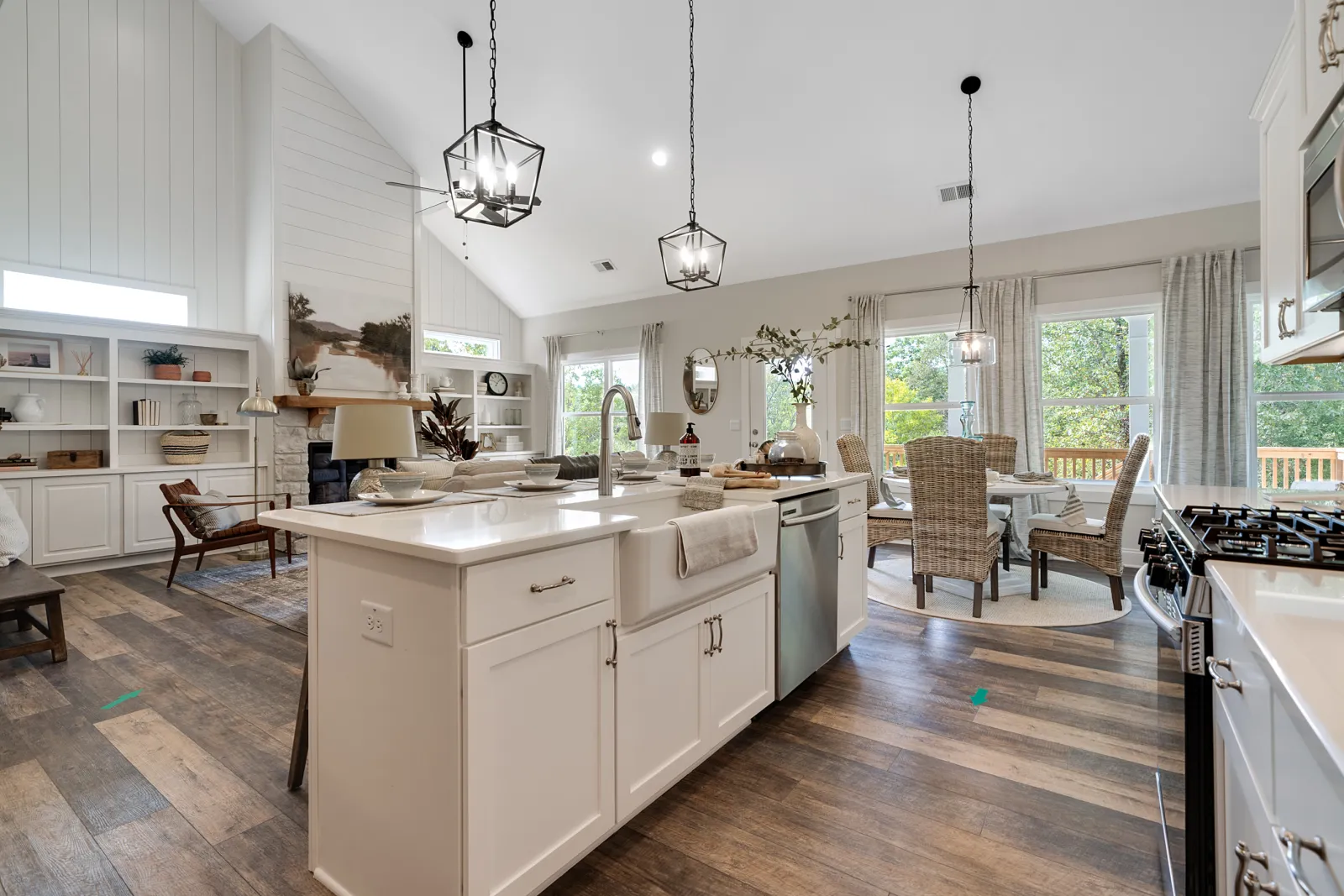 Benefits and Care of LVP
LVP is continuing to increase in popularity as technology continues to make it nearly indistinguishable from the surface it's mimicking. Its durability makes it ideal for use in high-traffic places, as well as in areas where hardwood is typically not used such as bathrooms.
LVP is also popular for its ease in cleaning. Be sure to clean up big spills as soon as you can. We recommend using furniture floor protectors to prevent damage from moving or sliding furniture. Daily removal of dirt and dust is important and can be done by sweeping, dust mopping and vacuuming.
Tile
Here at Artisan Built, we offer many tile options as an additional upgrade. We have four levels available to choose from.
· Level 1 has three different styles of tile available in 13x13 squares. Each design offers 3 different colors, so there is variety to choose from.
· Level 2 offers 12x24 plank-style tile in the Omega and Milan lines, as well as 13x13 square tiles from the Prism line.
· Level 3 offers a more luxurious style of tile with four different options available. This level includes both 13x13 square and 12x24 plank options, with many of the styles appear as natural wood, marble or other high-end surfaces.
· Level 4 offers tile with modern, colorful patterns, as well as luxury Carrara options.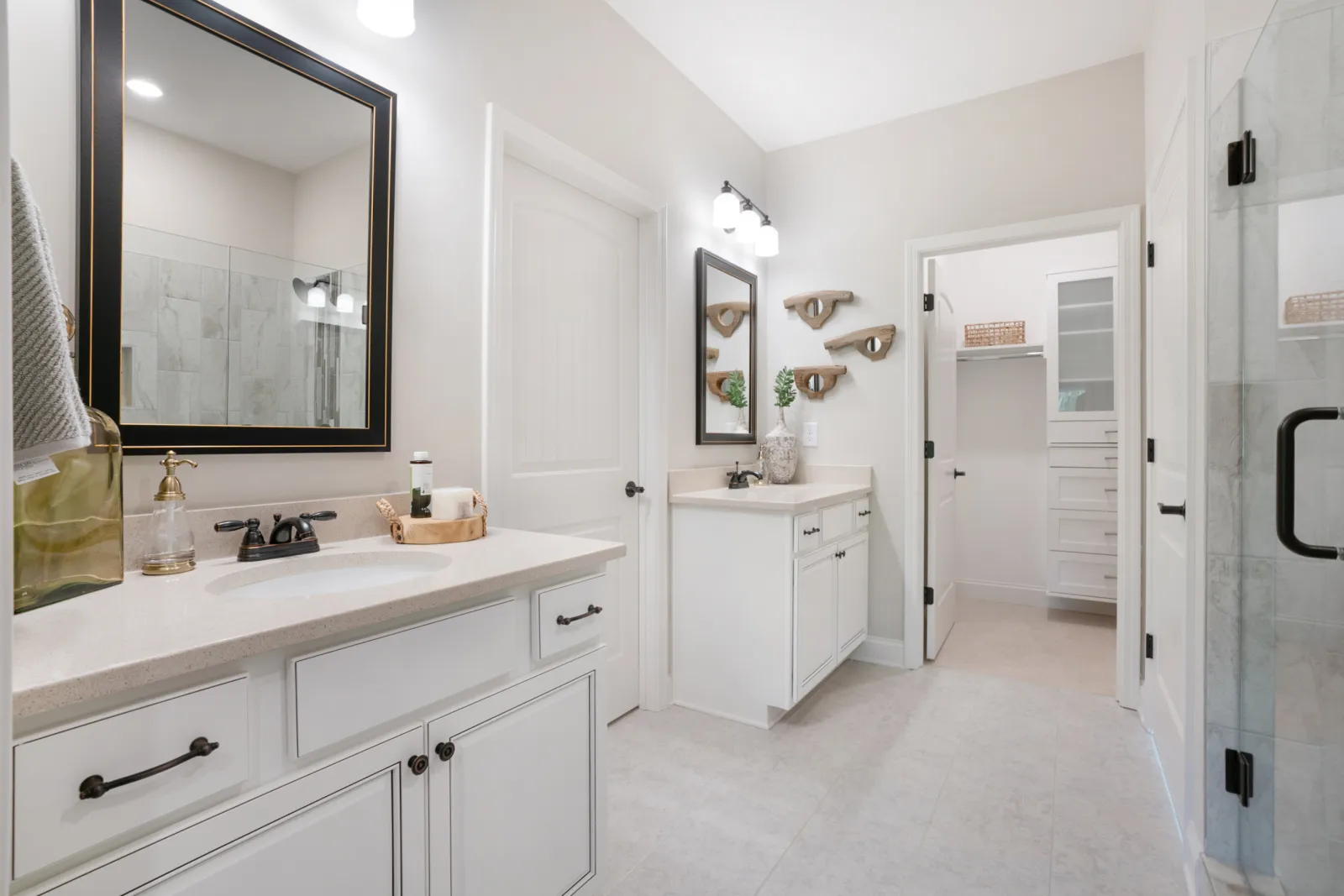 Care of Tile
Tile is extremely resilient when it comes to showing wear and tear, and is ideal for high traffic areas. It's also water resistant. However, it's hard surface can wreak havoc when heavy objects are dropped, causing damage to both the dropped item and the tile itself.
Tile is also fairly low maintenance. Spills should be cleaned up as soon as possible to avoid stains and slip/fall hazards. Simple mopping and sweeping is ideal for cleaning tile. Periodically, tile flooring will need to be deep cleaned using a brush scrubber and neutral cleaner, and sealant should be applied once every 4 to 5 years.
Hardwood Flooring
Hardwood flooring is also available as an additional upgrade to your new Paulding County home. We offer traditional and wide plank flooring in a variety of colorways, from light wood to dark browns and everything in between.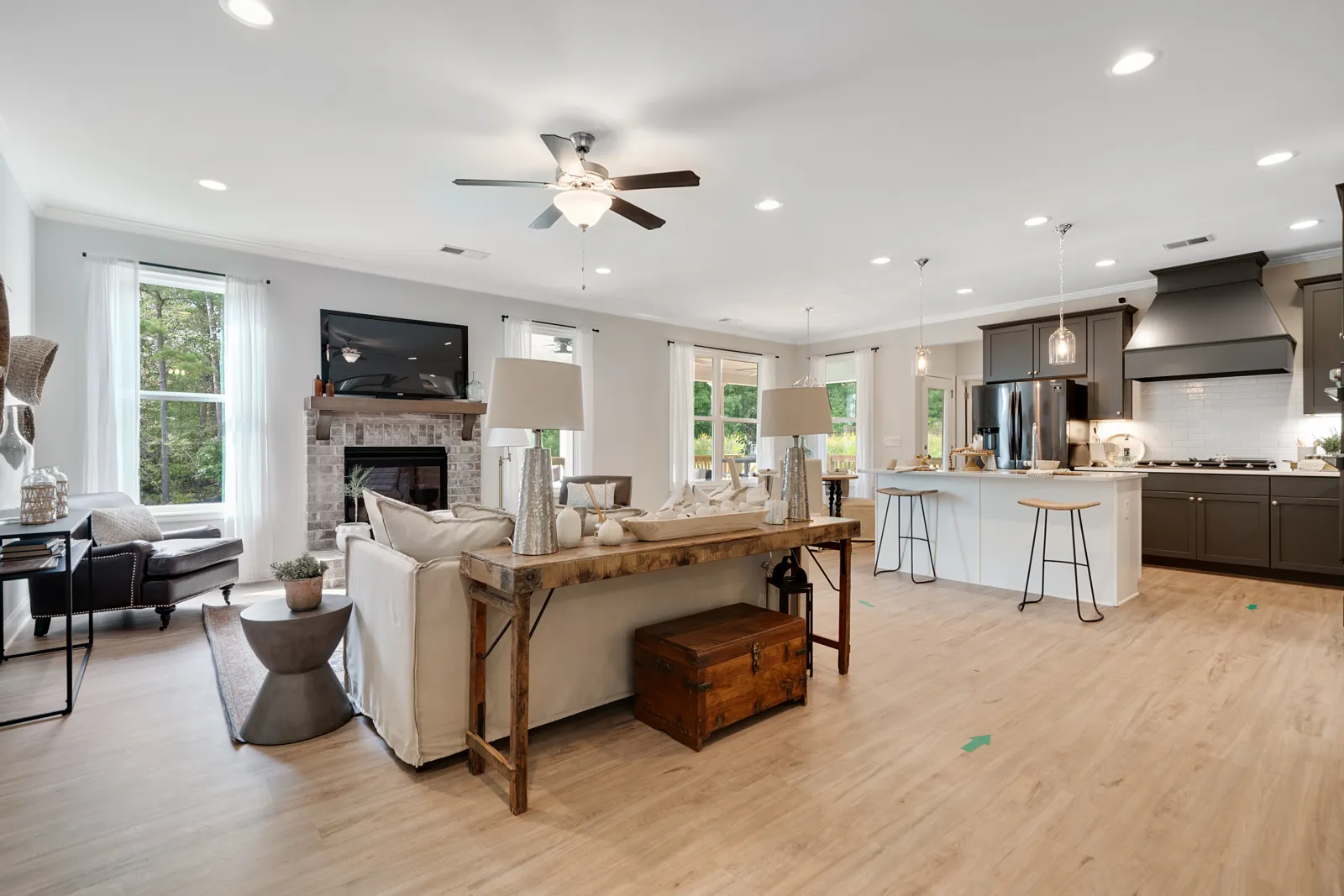 Benefits and Care of Hardwood
Generally speaking, hardwood floors are still considered the nicest flooring option and add the most value in your home.
Hardwood floors are easily maintainable if done correctly. Daily sweeping and vacuuming are good habits to keep. Occasional mopping will be needed. We recommend not using any oil-based wax, polish or ammoniated products because they can dull your floor's finish. For any flooring that is not carpet, we always recommend using rugs or entry mats to help contain dirt, sand or other grit that can be tracked into your home.
Interested in further exploring the flooring options and upgrades available at our Artisan Built communities? Stop by our design center at NatureWalk at Seven Hills today to take a look at the styles we have available and sit down with our designer to select the upgrades for your Artisan Built home. While you're there, be sure to tour the homes in our model park for some inspiration and to see these luxurious flooring choices in action!
To learn more about Artisan Built Communities and our new homes in Paulding County, contact us here.