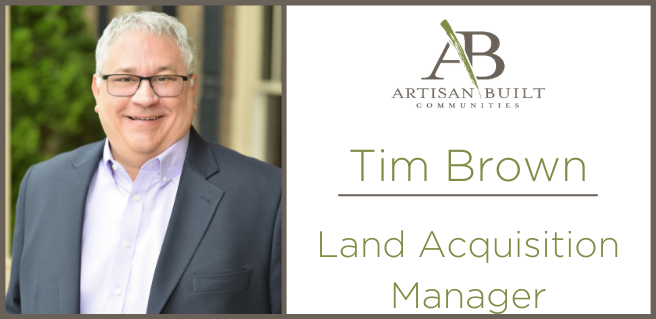 We are pleased to announce the addition of Tim Brown as Land Acquisition Manager. Brown is bringing more than 20 years of experience in his field, and further enhancing our company's already extensive scope of industry knowledge and involvement.
"Tim has already brought insights, new relationships and greater efficiencies that will help us offer even more Georgia families the opportunity to live in affordable elegance," says Stephen Haines, president of Artisan Built Communities. "We welcome his expertise and commitment to our vision and our continued growth."
As Land Acquisition Manager, Brown will source and secure land and lot positions to facilitate growth. He will be thoroughly involved in assuring the feasibility of land development, securing any needed environmental studies, permits and approvals. In doing so, he'll develop and maintain relationships with our sellers, developers, brokers and other industry professionals.
Brown has more than 20 years of experience in acquisitions, development management and disposition, both for publicly traded builders and small, privately owned firms. In addition, he has experience as a licensed Georgia Realtor and has owned his own home building company. Most recently, Tim Brown served as vice president of acquisitions and development for The Davis Group Real Estate Development in Alpharetta. He currently lives in the Atlanta area. We are so excited to announce him as a new addition to our team!
Our current Artisan Built communities include the award-winning NatureWalk at Seven Hills community and The Georgian, both located in Paulding County. For more information, call us at 678.515.9526