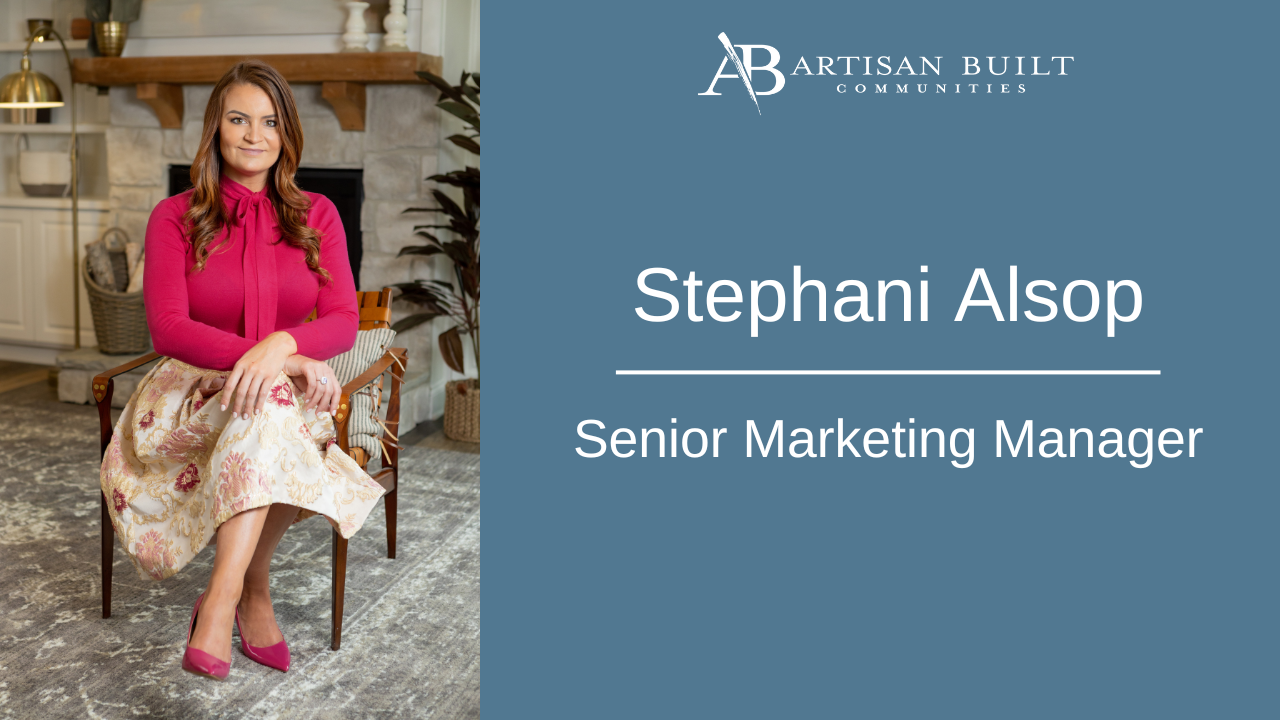 Our team is filled with incredible people, and we're excited to feature another dedicated member who helps us communicate effectively with our homebuyers! Meet Stephani Alsop, our Senior Marketing Manager. Stephani is a fantastic team player who helps us exceed expectations by implementing innovative strategies!
As a Senior Marketing Manager, Stephani oversees our marketing project management and communication efforts. She manages outreach to our customers by maintaining our website, coordinating events, overseeing public relations and blogging efforts, and handling our email marketing.
Stephani also helps us share our home options and floor plans with homebuyers by creating high-end home renderings, enabling accessible virtual tours and designing all marketing collateral, including floor plan brochures and community booklets. To develop successful strategies for our outreach, she gathers input through buyer surveys to gain insight on how we can better satisfy our customers!
Stephani was born and raised in Germany where she earned a Bachelors-equivalent degree in Business Management. Her first job was in sales with the largest telecommunications provider in Europe. She holds dual citizenship in Germany and the U.S., and she is fluent in both languages. After relocating to Fort Benning in 2012, Stephani began working as a marketing and business manager for a top-producing real estate broker. In 2019, she moved to Paulding County and joined our team!
In her role, she is motivated to consistently do bigger and better things to improve. Stephani is incredibly proud that Artisan Built won ten OBIE awards last year, and this has pushed her to strive for more. This year, we have entered the OBIEs again, and Stephani is excited for another opportunity to bring home the gold!
As a smaller company, we aren't tied to specific guidelines for our branding and marketing, and Stephani loves having the opportunity to establish them as we grow. She enjoys the freedom of trying new, innovative things and pursuing the best ways to achieve success. Although the most challenging part of her job is occasionally facing delays in implementing projects, the most rewarding aspect is being able to watch our team continue to grow and evolve over the past two-and-a-half years. Stephani finds it exciting to be part of the journey and help the Artisan Built vision come to life. She also loves her job because she's always surrounded by fabulous team members!
In her free time, Stephani loves to travel and flies home to Germany a few times throughout the year. She has two dogs - Peanut and Chase - who go with her almost everywhere. We have a pet-friendly office, so they can even accompany her in the office! She also loves eating out at local restaurants and regularly visiting her friends back in the Fort Benning area.
Our current Paulding County communities include the award-winning NatureWalk at Seven Hills and The Georgian. For more information on our available homes, contact us today.