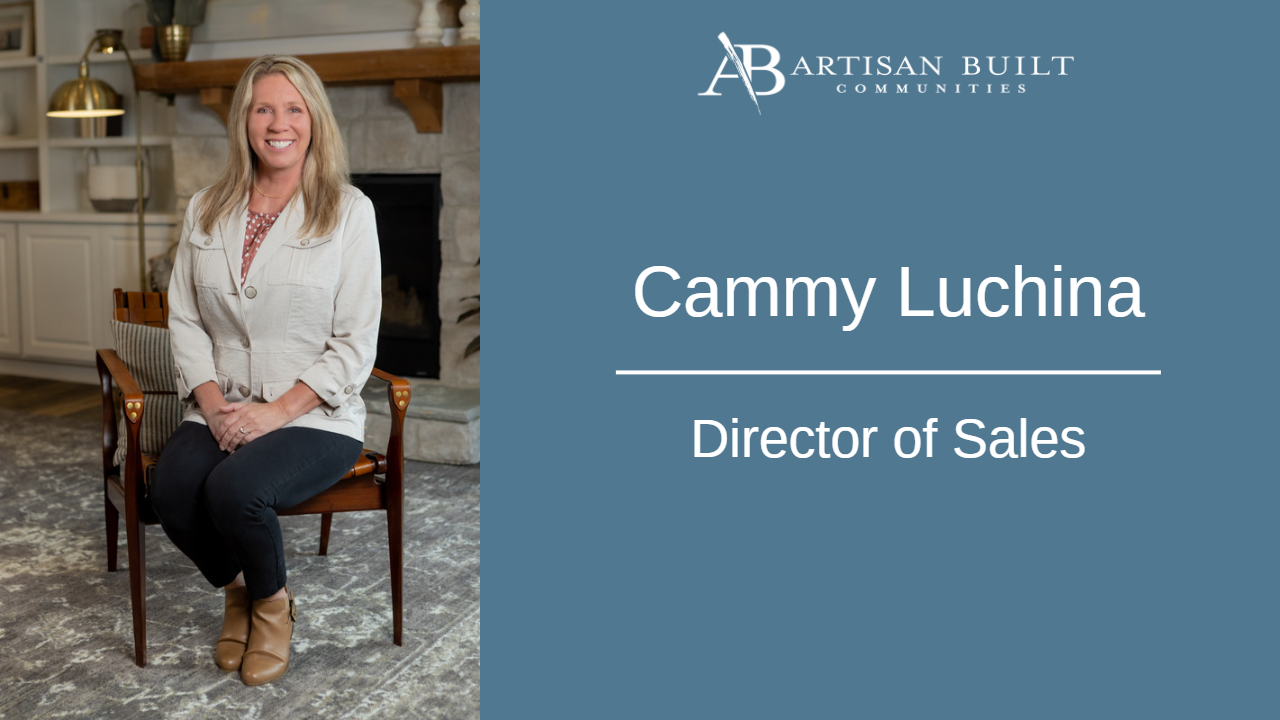 The Artisan Built Communities team is filled to the brim with talented individuals, making constructing thoughtfully designed homes across Georgia an easy task. Say hello to Cammy Luchina, our team's Director of Sales and a treasured asset to our team for the past decade!
In her role as Director of Sales, Cammy's busy schedule consists of model home visits with onsite agents, leading corporate and sales meetings, and lending a hand in her role as an Operations team member. Her day-to-day tasks include managing closing attorneys, lenders, sales and the contract-to-closing process with our team's Closing Coordinator.
Cammy shared that the most rewarding part of being a part of the Artisan Built Communities crew is witnessing the team's personal wins, as well as accumulating significant industry accolades, such as several coveted OBIE award wins.
Cammy thrives on motivating onsite agents to be the best in the industry and witnessing them start up and close out a community within their goal time! If she comes across a challenge, Cammy approaches it as an opportunity for learning, whether it's growing the business or navigating the market's many changes.
Cammy said, "I can say that working for Artisan Built Communities has been the most rewarding company to work for in my 26-year career in new home construction."
Before starting new home construction, Cammy spent many years working for her family's restaurant. Her experience propelled her to open and manage three restaurant locations throughout Georgia and Florida before 21, while also acquiring an education in Hospitality-Business Management.
With a professional background in sales, Cammy's career in new home construction began when she acquired her real estate and broker's license from the Georgia Institute of Real Estate. After founding her own homebuilding company and working for a national builder, Cammy joined the Artisan Built Communities team in 2012 and cemented herself as a valuable asset to our team.
Her vital role in the real estate industry extends to her positions on various real estate boards, including the 400 North Association of REALTORS®, the Paulding Board of REALTORS®, the Cobb Association of REALTORS®, the Greater Atlanta Home Builders Association and 55+ Council. Her position on these boards allows Cammy to speak with and train sales leaders.
Outside work, Cammy enjoys camping with her fiancé and two boxer dogs, crushing her fitness goals through CrossFit, and catching up on reading and big game hunting. She noted that one of the most important things to her is maintaining a healthy work and life balance.
Visit our Communities page to discover award-winning opportunities in Dallas, Villa Rica and Hapeville, Georgia. To meet more valued team members, stay updated on our Blog page!
For more information about available homes, speak directly with our team by contacting us today.