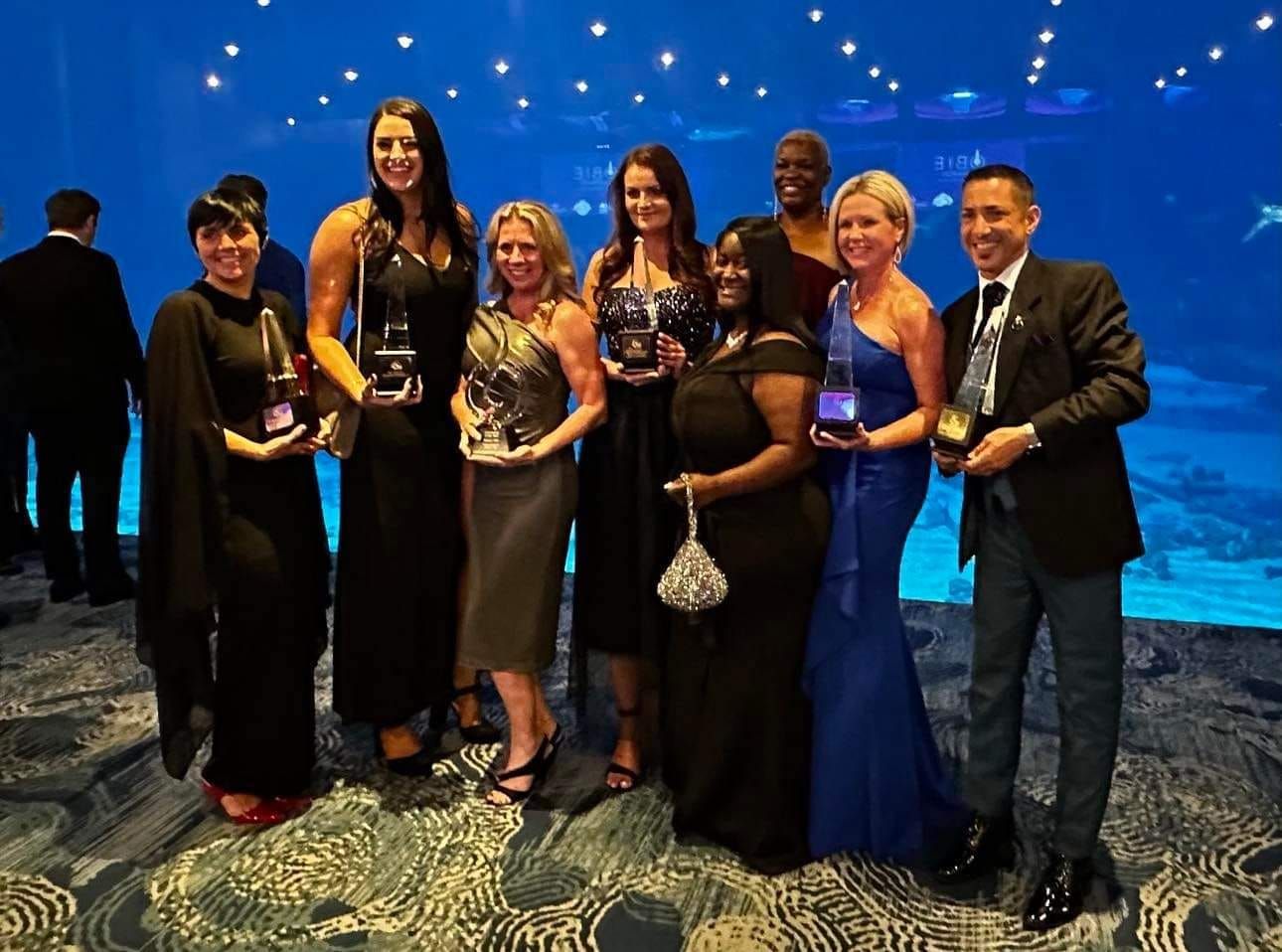 We are thrilled to announce that Artisan Built Communities received 10 awards at the 42nd Annual OBIE Awards celebration including Salesperson of the Year and Community of the Year, as well as an additional four Gold Awards and four Silver Awards. On behalf the Greater Atlanta Home Builders Association, the prestigious OBIE Awards are presented by the Atlanta Sales and Marketing Council and acknowledge incredible achievements and talents within Atlanta's new home construction industry.
"We are honored to be recognized by our industry peers for our exceptional work in so many facets of the industry, including winning Community of the Year for the second year in a row," said Stephen Haines, President of Artisan Built Communities. "We are extremely proud of the incredible team we have here at Artisan Built, and the fantastic product and service that we provide to our homebuyers. It's a true team effort that resulted in us being recognized so many times at the OBIE Awards."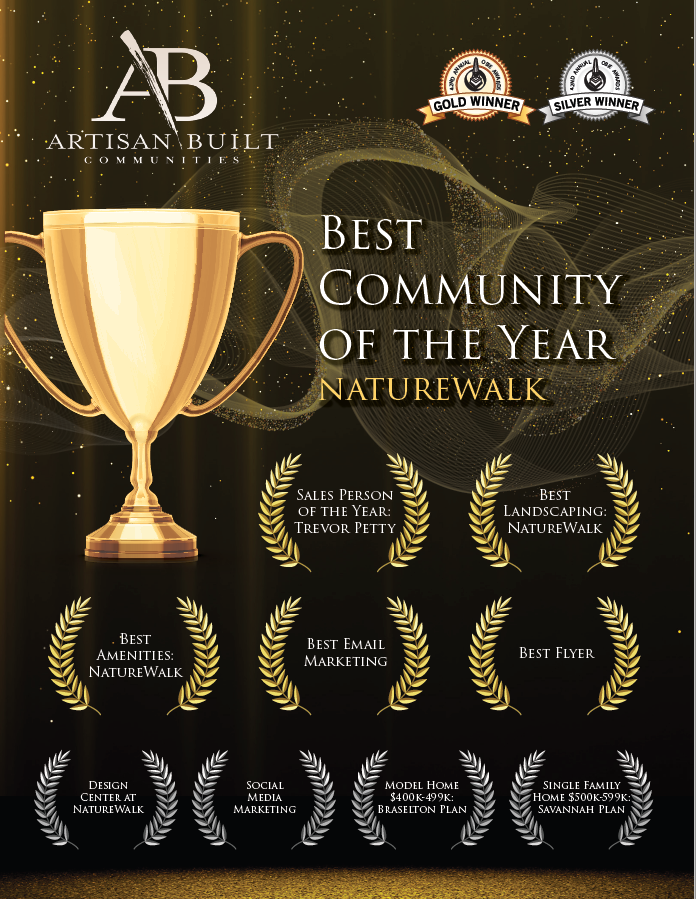 For the second year in a row and the third time overall, NatureWalk at Seven Hills was named the Master Plan Community of the Year! Offering resort-style living and impressive amenities, our master-planned community was designed for homebuyers within every stage of life. With two unique sections currently selling, explore NatureWalk at Seven Hills and discover your new home today!
Onsite agent at NatureWalk at Seven Hills, Trevor Petty was recognized as the 2022 Salesperson of the Year! With 27 years of experience, Trevor prioritizes delivering expert knowledge and developing harmonious relationships with his buyers. Consistently receiving 10-star ratings, he treats all his buyers as if they are family, advising them throughout the process, remaining positive and keeping constant contact.
We received four Gold OBIE Awards including:
Best Flyer/Mailer
Our team created a flyer to promote a stunning floor plan that is available to be built within our top-tier metro Atlanta master-plan community, NatureWalk at Seven Hills. The flyer features text and photos that display the many things that make up the oh-so-loved Savannah plan.
Best Email Marketing Message - Builder
Our team developed a series of autoresponder email messages for potential buyers to receive once they visit us or contact us online. Consisting of a series of 13 emails sent over a period of 12 weeks, the autoresponder program provides three templates featuring coordinated designs displaying the Artisan Built branding.
Best Amenity Package - 500+ Unites/Total Build Out
At NatureWalk at Seven Hills, the impressive amenity package begins with a 13-acre waterpark boasting a waterslide, multiple swimming pools and a playground feature. Residents can enjoy a main clubhouse featuring a beautiful kitchen and several gathering areas both inside and outside for dining, meetings, celebrations and more! Perfect for walking, hiking and biking, miles of green space and golf cart paths are available throughout the community. Additional amenities featured at NatureWalk at Seven Hills include playgrounds, a dog park and several athletic spaces, such as basketball, pickleball and tennis courts, as well as soccer fields. NatureWalk also provides an exclusive amenity area for 55+ residents within Stratford at NatureWalk, featuring a pool with a swim-up bar, clubhouse and outdoor kitchen.
Best Landscape Design - Community
With the focus of nature being a significant aspect of NatureWalk at Seven Hills, there was no better way to reflect that than within our landscaping. Much of the community's landscaping is organic, filled with natural creeks and streams, pine and hardwood forests and rolling meadows. Incorporating formal landscaping within the entrance, amenity areas and streetscapes, our team harmoniously blended formal landscaping and natural elements.
We also received four Silver Awards including:
Best Building Design - Detached Model
Designed with the active adult lifestyle in mind, our Braselton model home at Heritage Pointe displays single-level living with two bedrooms and two bathrooms. Priced from the high $3000,000s, this adaptive floor plan has options ranging from 1,792 to 2,032 square feet and a third bedroom according to the buyers' needs! Showcasing open entertainment spaces, a gorgeous owner's suite and an outdoor living area with upgrade options, this home plan is nothing short of impressive. With a front room perfect for a formal sitting area, study or home office, the second story addition can be used for an entertainment area for grandkids, space for enjoying a hobby or an additional bedroom for visiting guests. This home can be customized to fit exactly what the owner needs!
Single-Family Builder - Detached (Builds 100+ Homes/Year)
With 2,975 square feet of living space, the Savannah model home at NatureWalk at Seven hills showcases five bedrooms and four bathrooms. Boasting an open-concept layout, homeowners love the accessibility to the dining space and home office space just around the front entryway. Our Savannah Plan features a fireplace and an upgraded kitchen that raises the bar in the home's interior design. Additionally, this plan includes a main-level guest suite and a second-level owner's suite with special leisure spaces including a covered, private balcony and a cozy sitting area.
Best Social Media Campaign - Builder/Developer
At Artisan Built Communities, we look to social media to draw in prospective homebuyers. With a variety of post types and strategies used to reach target audiences, our most notable social media campaigns include New Home Orientation celebrations posts, floor plan features and amenity features. With frequent interaction and strategic posting, social media is now an essential aspect of our company's marketing strategy by aiding with driving traffic to the company website, growing the Artisan Built brand and promoting new developments and inventory homes.
Best Design Center
At the Artisan Built design center, NatureWalk at Seven Hills homebuyers are offered the opportunity to design the home of their dreams! In one convenient location, buyers can choose from a wider variety of options including cabinetry, countertops, fixtures, flooring and more! Homebuyers can view any home options, we don't have available at our design center, digitally on a 42-inch flat screen tv. Additionally, homebuyers can enjoy a two-hour design meeting with a professional interior designer with the design center space.
For more information on Artisan Built communities, home plans, amenity packages and more, visit www.DiscoverArtisan.com.