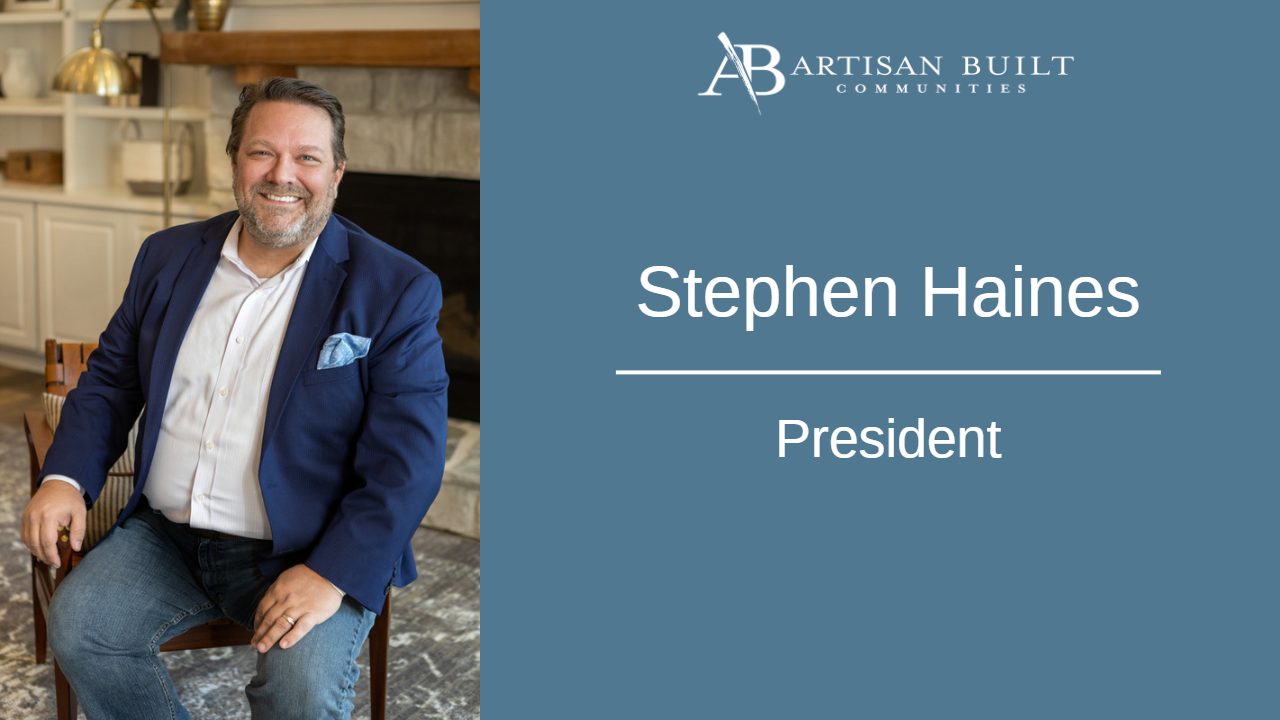 We are excited to introduce the President of Artisan Built Communities, Stephen Haines. With more than 20 years of experience working with renowned home builders, Stephen is a strategic leader and expert within the home building industry. We are proud to have him at the head of our operations as we strive for continued growth and expansion!
As the President, Stephen focuses on all homebuilding operations conducted by our team. He is also devoted to discovering methods to restructure and streamline processes and internal systems. To further our growth, Stephen is responsible for expanding our footprint with a tactical list of strategic initiatives.
Before joining Artisan Built, Stephen consulted with our team for several months leading up to his transition to President. Stephen is passionate about our work within the new home construction industry, and he is dedicated to promoting constant improvement. He aims to increase our overall production while continuing to offer the high-quality homes and communities that Artisan Built is known for and increasing customer satisfaction through an enhanced focus on cleanliness, communication and job completion.
Stephen earned an MBA in Leadership and Finance from the University of Houston's C.T. Bauer College of Business. During his career, Stephen has worked with several prominent home builders located within Georgia, Texas, Florida, Tennessee, and North Carolina. Most recently, he acted as the founder and Principal of VPEA Consulting in the greater Atlanta area.
As a father of seven, Stephen enjoys spending time with his children when not at work. He also strongly believes in giving back, and he dedicates his time to serving nonprofit organizations. As someone with strong family values, Stephen has acted as the Chairman of the Board for Supporting Adoption & Foster Families Together. Through PulteGroup's Built to Honor program and Operation FINALLY HOME, Stephen also coordinated a project to provide a home for wounded warrior U.S. Army Sgt. Perry Haley in 2014. He also played an important role during the construction of Aimee's Wing, a 1,956-square-foot addition to the home of Aimee Copeland and her family.
We are delighted to have Stephen leading our team at Artisan Built. We are thrilled to see his vision for the future of Artisan Built unfold, and we look forward to the continuation of his strong leadership!
Our current Paulding County communities include the award-winning NatureWalk at Seven Hills community and The Georgian. For more information on our available homes, contact us today.