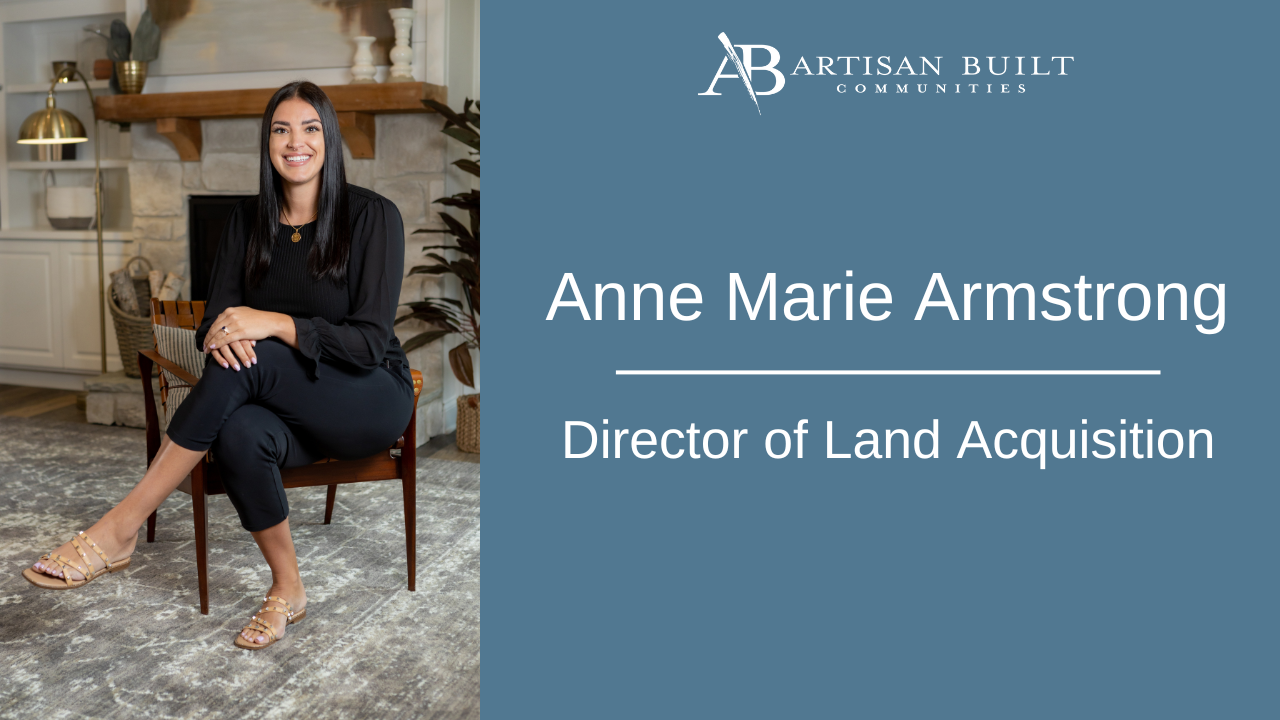 We love showcasing members of our fantastic team who help us accomplish incredible achievements. Next up, meet Anne Marie Armstrong, our amazing Director of Land Acquisition! With seven years of experience in the real estate industry, Anne Marie is an important team player who helps make our homebuilding goals a reality!
As our Director of Land Acquisition, Anne Marie plays an important role in helping us find and attain new land where we can build fantastic new communities. Anne Marie is responsible for scouting out the best land for future projects by searching databases in areas where we foresee growth opportunities.
She evaluates each land opportunity to determine if it fits our criteria and if it allows us to create our vision by meeting with planning and zoning departments to develop a plan. After finding new land that fits our needs, Anne Marie then assists on each project to create and review preliminary budgets, coordinate with engineers, land planners, surveyors, landscape architects, etc., and manage the final approval process.
Anne Marie's favorite aspect of her role is the daily opportunities to connect with so many different people within the industry as her position revolves around several business relationships. She takes pride in working to make a positive impact on those she meets, and she values the opportunity to continuously learn from homebuilding industry leaders. Although the most challenging part of her job is waiting on delays during the land negotiation process, she finds it rewarding that she can see projects through, from the very start at initial negotiation to construction and finally the finish line when our new communities open for sales!
Before Anne Marie joined the Artisan Built team, she was a basketball star. After graduating from the University of Georgia where she played basketball on a full scholarship, she was drafted by the Atlanta Dream. She then went on to play professionally for five years throughout South America and Europe in Brazil, Israel, Poland, Spain, Italy and Turkey.
During her off seasons, Anne Marie became a licensed real estate agent in 2016 and worked with Atlanta Land Group where she focused on large land tracts. After retiring from basketball, she went on to work with Lennar and then joined the Artisan Built team in 2021.
As a real estate agent/land specialist, Anne Marie worked directly with land acquisition managers, developers and builders, and she noted several similarities between their positions and her role as an agent. After finding a job opportunity as Director of Land Acquisition, she decided to take the leap and the rest is history!
During her career, Anne Marie has been motivated by the opportunity to provide a great life for her family - her husband Aleks, who she met in Israel while playing basketball, and her dog Petey. She is constantly driven to be the best version of herself, help bring people together and have a positive impact on others.
In her free time, Anne Marie enjoys participating in sports, outdoor activities, going to eateries and having a good cocktail. She also loves exercising and spending time with her friends.
Our current Paulding County communities include the award-winning NatureWalk at Seven Hills community and The Georgian. For more information on our available homes, contact us today.